Friendly mobile service to Newcastle, Hunter & Central Coast
Hi Lee , thank you for recently attending to my customers vehicle Detailing requirements.
Your response was actioned with a real sense of urgency & your communication with scheduling timeframes with the customer was great.
With my industry background as a guide, I can say in my opinion the results achieved were the highest standard I have ever seen & at a very economical price.
My customers were delighted with the work you had carried out & I will certainly contact you again for future detailing requirements.
Thank you again
Daniel Matthews
Motor Assessor, Newcastle RepairLink

---
ORIX
ORIX Australia Corporation Limited
ABN 79 002 992 681
47.53 Pacific Hwy, West Gesford NSW 2250
Telephone : (02) 4324 9995
Facsimile (02) 4324 9997
Here at the ORIX Car Center at Gosford we have cause to engage the service of lee and his team from Duco Wizard in the preparation of our vehicles for sale to the public
Whilst we have our own detailing team we find Lee's specialised service invaluabl. They bring the painted surfaces up to a brilliant lustre and most imprefections seem to vanish under their skilled hand.
We highly recommend Duco Wizard for their ability to add value to your motor vehicles
Jeff de Groot
Manager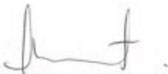 ---